" SSAP Starbucks Partee "

June 09,  2006  ~   Buckskin Gelding  ~  APHA #  880,202

Don and Connie Delorme

Box 28, Robsart, Saskatchewan  -  S0N 2G0

Phone:  1-306-299-4494

This handsome fellow 's new home is Unity Sask.


A letter from his new owners:
I thought you might like to get some feedback about one of your babies. My daughter Jaycie and I purchased a yearling buckskin gelding from you last summer. We named him Hitch. What a wonderful animal with a terrific disposition. We have been light riding him since about November and has never bucked to this point. He is handled every day and gets ridden about 10-15 minutes 3 to 4 times a week. Usually once a week I'll take him out for about an hour just walking and trotting. He loves it.

We broke him for both bareback as well as saddle and switch back and forth regularly. Even though he is comfortable with a bit in his mouth I rarely use it. I simply use his halter and lead shank which he responds to as good as a regular bit. He neck reins beautifully and is a smooth ride already at such a young age. We taught him to side step both ways for opening and closing swinging gates which he does great. He's obviously an intelligent critter which is a credit to your breading program and stock.

Anyway, just thought you might like to hear how well Hitch has been making out.

The Dam's first Foal

SSAP Partee Cash

2005 Gray Overo Filly

Burgess Family of Ontario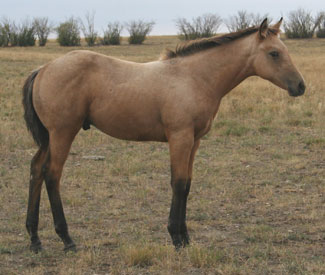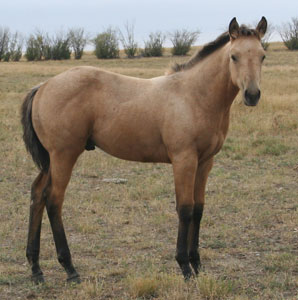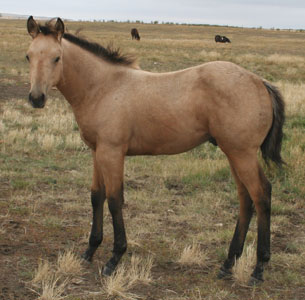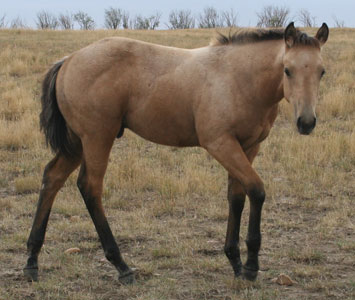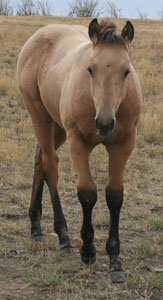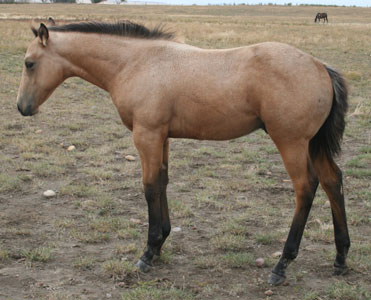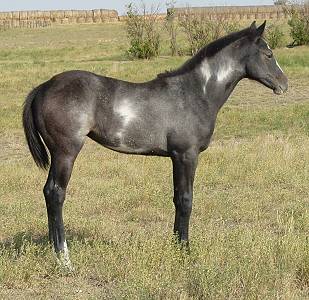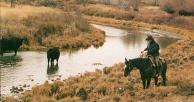 The Dam;

Shi Society Dove in her ranch working days

2005 Full sister to the Dam

SSAP Ms Raisin Robin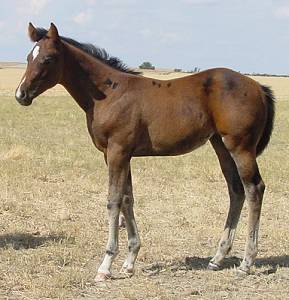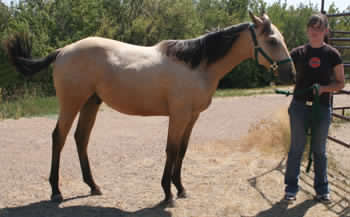 Jaycie  and  SSAP Starbucks Partee

-----------------------------------------------------------------------------------------------------------------------------------------------------------------------------

Extended Pedigree available on Sire &  Dam Pages  ~ Support photos for siblings available through the Dam's page

- pages open in new window -

-----------------------------------------------------------------------------------------------------------------------------------------------------------------------------

-----------------------------------------------------------------------------------------------------------------------------------------------------------------------------

                                      Mr Robin Boy

                   Robins Parteebuilt  (APHA)

                                       Si Bar Si

         Mr Parteebuilt  (APHA)             

                                       Mistic Pie San

                   Lady Shi Di  (AQHA)

                                       Lady Skip Shi

                                       Barrera

                             Imp Society

                                       Trotta Sue

         Ima Comanche   (JC-Thoroughbred)        

                                       Chieftain

                             Siwolki 

                                       Little Gracia






Mr Baron Check



Famous Checkmate





Pamela Page

Famous Skip A Page





Mr Dial Socks



Dials Soxy Lady





Marcody





Heart Bar Dude



Lakota Golden Dude





Paradises Girl

Harts Soul Asylum





Impressive



Impressive Suzy





Dial Dilly