____________________Contact Us ____________________


South Shadow Angus + Paints

Don  and  Connie  Delorme

Box 28

Robsart, Saskatchewan

Canada

S0N 2G0

PHONE:  306 - 299 - 4494

FAX:  306 - 299 - 5716

CELL:   306 299 7778  - Don

CELL:   306 295 7978  - Connie

EMAIL:  dcdelorme@sasktel.net
On This Page - click your browser's "back" button to return to here

or use the " TO TOP "  link provided at the end of each section

___________________ Location (Map) ____________________

We are located in the extreme South West corner of Saskatchewan, Canada

  *  Approx half way between Calgary, Alberta and Regina, Saskatchewan

  *  The nearest cities: Medicine Hat Alberta and Swift Current Saskatchewan



are about 2 hours in either the West or East directions.
  *  From Havre, Montana we are approx  2 hours driving time, North through the Port of Willow Creek.

  *  about 1 hour south of the Trans Canada #1 highway at Junction #1 / # 21 highways.  Signs on the TransCanada will point to Maple Creek, Fort Walsh and Cypress Hills Provincial Parks.

At Junction #1 / #21 turn South on Hwy #21, go through the town of Maple Creek,

follow Hwy #21 South (approx. 50 miles),

At Junction # 21 / #13, turn East  for 4 miles (6.4 km)

At Junction #13 / # 18 turn north on grid road for 2 miles (3.2 km)  then turn East for 1.5 miles (2.4 km). 

The yard is on north side of road - gray house with red outbuildings and slab fence against the road ..... welcome!





Address:


Box

Town

Province / State

Postal / Zip Code
Request Information On:


Cattle

Horses

Specific animal ?
Do you have any suggestions to make our web site more informative ?

Most of the fields in the following form are all "optional" ..... however we would like a backup contact in case of computer failure, so we do require the  "name, phone and email " fields to be completed.

We thank you for any and all suggestions and inquiries.

Reset button if you would like to start over

Submit button - We thank you for any and all inquiries and suggestions.

____________________Request  Form____________________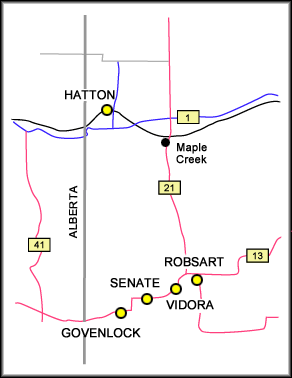 Trans-Canada # 1 Highway to

Swift Current, Saskatchewan

Swift Current to ranch site - 115 KM

Trans-Canada # 1 Highway to

Medicine Hat, Alberta

Med. Hat to ranch site - 110 KM




Registered  &  Commercial  Black  Angus  Cattle    <>    Quality  Paint  &  Quarter  Horses


SSAP Paint & Quarter Horses

and

South Shadow Angus



Don, Connie, Darby & Kalee Delorme    ~    Box 28, Robsart, Saskatchewan   S0N 2G0  ~  Canada

www.southshadow.com  

  © 2002 - 2006 Copyright -  All Rights Reserved  

  www.southshadowangus.ca
South Shadow Angus + Paints


SSAP Paint & Quarter Horses
www.DelormeLivestock.com


Delorme Livestock


www.DelormeAngus.ca
www.PaintHorses.ca


www.PaintFoals.ca