"  SSAP SHI N SAUCY "

May 06,  2007  ~   Sorrel Overo Filly  ~  APHA #: 916,227






Painted Robin Jr. (APHA)



Mr Robin Boy (APHA)





Miss McGinley (APHA)

Robins Parteebuilt (APHA)





Buz Burnett



Si Bar Si (AQHA)





Dandy Toppsie





Mistic Bar



Mistic Pie San





Sandi Pie San

Lady Shi Di (AQHA)





Skip Shi



Lady Skip Shi





Balmy Joe Bar
Don and Connie Delorme  ~  Box 28, Robsart, Saskatchewan    S0N 2G0  ~   Phone:  1-306-299-4494    ~   
Email

A note from Louise about how she and Shi have been getting along .......  [
click here
] hit  "previous page" near the bottom to return to here

This little lady will grow up to be a stout mare with just enough white to add some chrome  to your ride.

We're riding two full brothers and have kept two for the broodmare group.  We also have two '07 foals sired by her Dam's daddy, Montana Bonanza.
Stock horse, arena competitor or companion, this well bred filly will make an excellent prospect for you.

GRAND SIRE, Montana Bonanza's descendants and siblings have been :

World Champions in reining, Montana Bonanza sired  Bonanza Kims Reno - World Champion Reining horse .

Grand Champion in Halter,

Grand Champion on Hunter Under Saddle,

Grand Champion in Hunter Hack,

ROM and Superior in Hunter Under Saddle,

ROM and Superior in Open Reining,

Point Earners in :

along with various Youth points and awards. 

Bloodlines of versatility.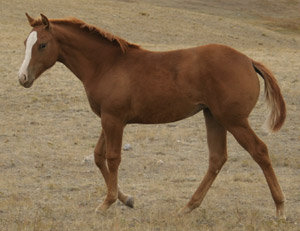 Cowboy Bar



CBS Joe





Patsy Jo Reed

Montana Bonanza





Major Bonanza



Major Catastrophe





Spooka Dot





Waspy King Bar



Waspy Kled Bar





Kleo Dolly Bar

Saucy Miss Waspy





Silver Leo



Saucy Sheila





Shellys Joy
More Pictures  Below

Extended Pedigrees Available on Sire and Dam pages

Sire +

Dam

links

open

in new

window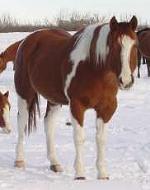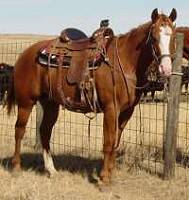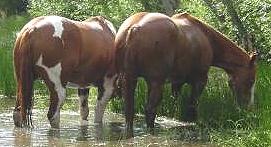 Major (left) and Spot (right) - summer 2004

Partee Spot

2000 Sorrel Gelding

Major Partee

1998 Sorrel Tobiano Gelding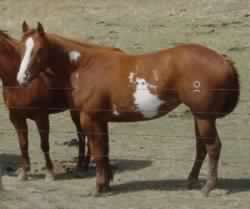 Triple Snickers Tee

2002 Sorrel Overo Filly- summer 2004

SSAP Patch Me Thru

2003 Sorrel Tob/Overo Filly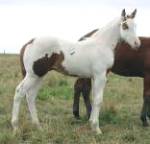 SSAP Cowboy Caviar

2004 Sorrel Tovero Stallion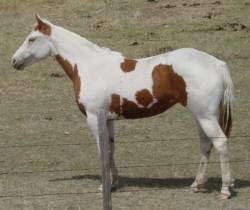 ______________________________________

SSAP Mama Mia

2006 Sorrel Filly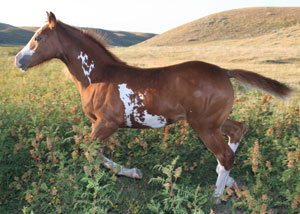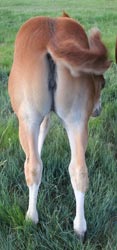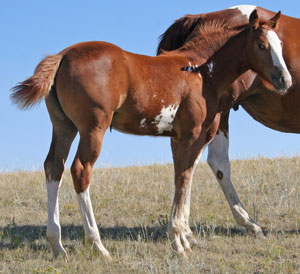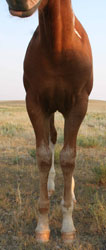 Color & Markings: Sorrel Overo, Neck and belly spots high rear socks-lower on front legs. Wide blaze.

4 yr old full sister stands 15.1 HH