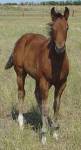 " SSAP Number One Lady "

May 1,  2004  ~   Bay Filly  ~  APHA #: 786,312






Painted Robin Jr. (APHA)



Mr Robin Boy (APHA)





Miss McGinley (APHA)

Robins Parteebuilt (APHA)





Buz Burnett



Si Bar Si (AQHA)





Dandy Toppsie





Mistic Bar



Mistic Pie San





Sandi Pie San

Lady Shi Di (AQHA)





Skip Shi



Lady Skip Shi





Balmy Joe Bar
"Lady"  is a stylish well-built filly with that patented Parteebuilt hip and bone.  Her young dam, is a real nice, soft-eyed mare with size, balance and wither - a product of our breeding program, with both her sire and dam being used here on the ranch, as well as the siblings.

This
family of horses
(look for Jagged Lady) are very trainable,  have that 'easy to be around' attitude and have that little extra shot of speed.  The dam's full-brother was high-selling horse at the 2002 SCHB Sale - a deluxe ranch horse that anyone could ride.
Lady's full brother is under saddle in the Macklin, Sask. area.

The 2002 filly is at Orion Alberta - going to be a ranch horse. And her yearling sister allows a young girl to crawl on "free-style" - can't ask much more for trust and disposition.

Extended Pedigree Notes for the Sire, Mr Parteebuilt:

His sire, Robins Parteebuilt, has sired APHA  World & Reserve Champions,  Multiple Superior Champions,  APHA Versatility and  ROM awards and Futurity winners, 5295 performance points...1409 halter points.  His Grand Sire; Mr Robin Boy, is an APHA Champion himself,

as well as Superior All-Around, National and Reserve Halter Champion and a Performance Versatility Award winner with Superiors in 8 events. His get have earned over 15,000 performance and halter points. Mr Robin Boy is sired by Painted Robin Jr., APHA champion with a Superior in Halter, who is by Painted Robin 800 sire of Champions, by Robin Boy.

Complimenting the APHA Champions are Buz Burnett, an AQHA Champion, and Dandy Toppsie  who has her own performance and halter points and is sired by Superior Halter Champion, Quincy Dan.

His Dam; Lady Shi Di, is the product of multiple winners, each with their own ROM's in Performance and Halter, through the AQHA.

         <>  Mistic Bar by Gay Bar King by Three Bars

         <>  Sandi Pie San with a Superior Halter

         <>  Skip Shi by Skippers King by Skipper W

         <>  Balmy Joe Bar by Zanzabar Joe with

Performance points and a Superior in Halter, by Nug Bar

______________________

Extended Pedigree Notes for the Dam, Red Shady Willow:

Painted By Red:  by

  Number One Red (ROM Open,Top Ten/Canadian Western Riding,

                            Western Pleasure,  Riding Championships, and

                            Reserve Hunter under Saddle)


Otoe's Gent
(World Halter Qualifier) by
            Otoe (AQHA Champion,  Superior Halter, AAA, ROM Race)                  by Sugar Bars

      Ole Cutie Bar (AQHA champion, Superior Halter, Superior Hunter,

                     Open ROM, 225 Halter & Performance Points) by

         The Ole Man(ROM Race)Three Bars out of Chicado V

         Tam Tivio(Halter Pts) Poco Tivio by Poco Bueno

  Apache Cat (APHA Champion, ROM Reining/Halter/Hunter)

         Bear Cat (National/APHA Champion/Sire of 7 APHA

                        Champions) by

         Streaks Fleck (AQHA Champion, ROM Arena)

         Shawnee Maid (Produced 3 APHA Champions) by

                        Apache Norfleet (APHA Champion)

Jagged Lady by Mr Roan Boy by Ank Hank (SI 55)

                     out of Lady Geno - dam of McArthurs Geno, standing                                                    at Diamond K Ranch Quarter Horses

______________________

More Pictures & Extended Pedigree Below

Sire +

Dam

links

open

in new

window

Don and Connie Delorme

Box 28, Robsart, Saskatchewan  -  S0N 2G0

Phone:  1-306-299-4494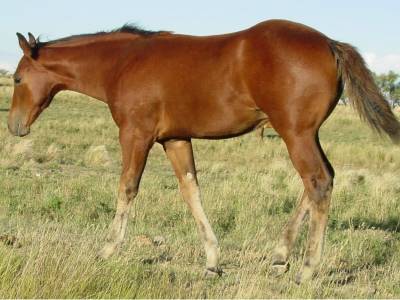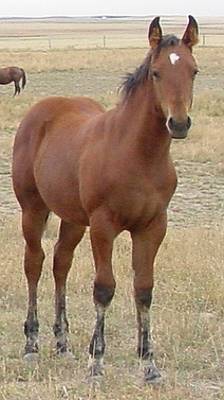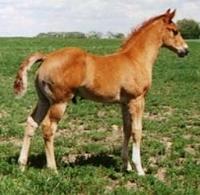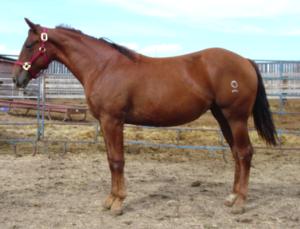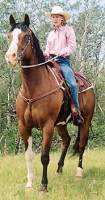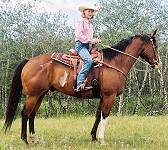 This good-looking gelding is a 3/4 brother to the filly, Lady, who we are offering for sale above.

Lightning & Lady have the same sire, with Jagged Lady being Lightnings Dam and Lady's GrandDam.

He is a ranch horse and barrel horse for the Kevin  & Rhonda Weiss family of Maple Creek, Sask. Amy Weiss is pictured on Lightning - ready to run the barrel pattern.

Lightning:

Sired by Mr Parteebuilt, out of Jagged Lady

Hopi Traveler - 2001 Sorrel Stallion

West Central Saskatchewan

Sugar Kit Tee - 2002 Bay Filly

Kelly Meyer Family, Alberta

SSAP Shady Ladee - 2003 Bay Filly

Alexander Family, Saskatchewan


Jagged Moon - 1994 Brown Gelding

Full brother to this filly's dam, Red Shady Willow and high-selling horse at the 2002 SCHB Sale - Wayne Bircham Family, Sask.

Add up the line of proven horses here and you take a lot of the guess work out of finding a real family-style prospect that will cover all the bases.






Otoes Gent



Number One Red





Ole Cutie Bar

Painted By Red (APHA)





Apache Cat



Jennifer Hancock





Pearl Hancock





Ank Hank



Mr Roan Boy





Scappooses Girl

Jagged Lady (AQHA)





Vaguero String



Lady Geno





Geno Lo
Lightning

Same sire as the filly offered above and out of the filly's maternal granddam.

SOLD to the Wood Family in California