Extended Pedigree Notes for the Sire, Mr Parteebuilt:

His sire, Robins Parteebuilt, has sired APHA  World & Reserve Champions,  Multiple Superior Champions,  APHA Versatility and  ROM awards and Futurity winners, 5295 performance points...1409 halter points.  His Grand Sire; Mr Robin Boy, is an APHA Champion himself,

as well as Superior All-Around, National and Reserve Halter Champion and a Performance Versatility Award winner with Superiors in 8 events. His get have earned over 15,000 performance and halter points. Mr Robin Boy is sired by Painted Robin Jr., APHA champion with a Superior in Halter, who is by Painted Robin 800 sire of Champions, by Robin Boy.

Complimenting the APHA Champions are Buz Burnett, an AQHA Champion, and Dandy Toppsie  who has her own performance and halter points and is sired by Superior Halter Champion, Quincy Dan.

His Dam; Lady Shi Di, is the product of multiple winners, each with their own ROM's in Performance and Halter, through the AQHA.

         <>  Mistic Bar by Gay Bar King by Three Bars

         <>  Sandi Pie San with a Superior Halter

         <>  Skip Shi by Skippers King by Skipper W

         <>  Balmy Joe Bar by Zanzabar Joe with

Performance points and a Superior in Halter, by Nug Bar

______________________

Extended Pedigree Notes for the Dam, Kilobar Diamond:

Terrific Shipleave ($70,000 in winnings, Superior Race)

              Ship Leave  by Nosomo by Nasrullah

              Terrific Dee (SI 100, Superior Race) by Mister Terrific                              (ROM Race)

Deckers Dee (ROM Race)

               Carter Decker(ROM Race) by Moon Deck (ROM                                      Race,$22,000 earnings) by Top Deck

               Sugar's Reba Lee by Sugar Bars

               Cadee Hi by Captain Hibar (ROM Race)

Two Kilobar

              King Leo Bar (ROM Halter & Performance, SI 95) Leo Bar                        (ROM Race) by Three Bars

              Fashion Page by Page Lee

Miss Lano Lou

              Poki 3 Nannette by Poco Sunday

              Janet Starling by Starling out of Janet Dexter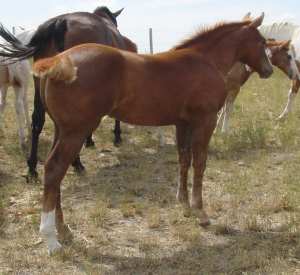 " SSAP Ladee Di Leavin "

May 03,  2004  ~   Chestnut Overo Filly  ~  APHA #  786,314

Don and Connie Delorme

Box 28, Robsart, Saskatchewan  -  S0N 2G0

Phone:  1-306-299-4494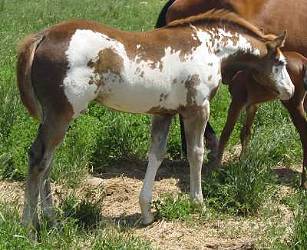 Ship Leave



Terrific Shipleave





Terrific Dee

Diamond Shipleave





Carter Decker



Deckers Dee





Cadee Hi





King Leo Bar



Two Kilobar





Fashion Page

Kilobar Lou





Poki 3 Nannette



Miss Lano Lou





Janet Starling





Painted Robin Jr. (APHA)



Mr Robin Boy (APHA)





Miss McGinley (APHA)

Robins Parteebuilt (APHA)





Buz Burnett



Si Bar Si (AQHA)





Dandy Toppsie





Mistic Bar



Mistic Pie San





Sandi Pie San

Lady Shi Di (AQHA)





Skip Shi



Lady Skip Shi





Balmy Joe Bar

" Di " is a tried and true cross.  Five of the eight full sisters

are being used in and out of the arena for work and pleasure.

(4 colored & 4 solids - 1 deceased)  Her yearling sister (high selling

foal of the 2003 South-Country Breeders Production Sale) is owned

and being brought along by a young high school student.

Four of them are working in various points of Alberta, one in

central Saskatchewan and the oldest, 
Bonnet
, has been
promoted to broodmare here at home.

Pictures of full sisters may be seen by visiting the Dam's

  Use back button of browser to return to here.

Received from the Thornton Family of Texas:

(received Oct 13, 2004 - 6 days after she left here, left Oct 8th and arrived in Texas very late on the evening of Oct 10th)

Well yesterday was the Weanling Tag in.You should be proud Di,She loaded

andunloaded like it was old school. She is starting to settle in nicely. I was

extremely proud of her. She was the talk of the event and I almost felt bad

for everyone else, It was like being in a poker game with a full house and

then have somebody drop a Royal Flush on you at the last minute. I felt like

I was on a date with a celebrity. Don't want to sound to proud but she pranced

around that arena like she came there to show them what she was made of.

She did you good.

  (received Sept 07, 2005)

Di is  making an outstanding yearling.

________________________________________________________________________________

2003 Filly - high selling foal in the 2003

SCHB Sale - Barry Kusler Family, Alberta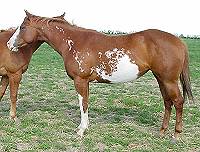 2001 Mare - sold to Jennifer Sauer,

central Saskatchewan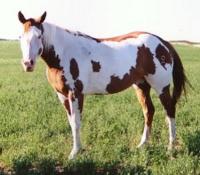 1997 Mare - rode for three years, now

promoted to the broodmare band here at home.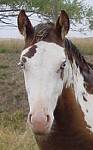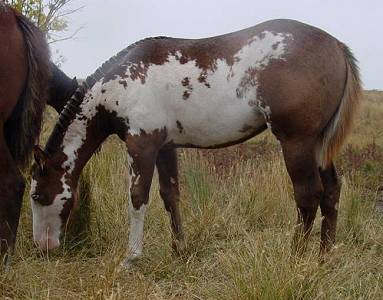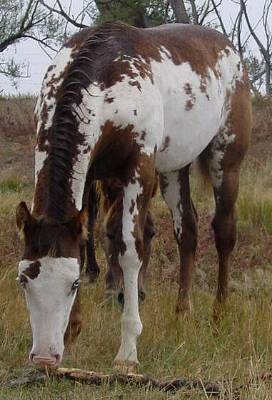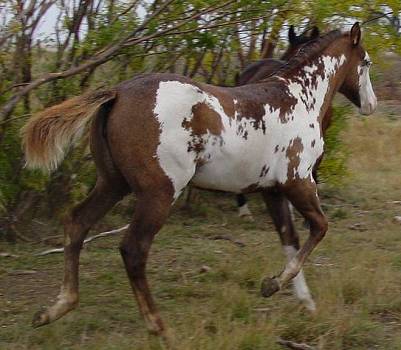 More Pictures & Extended Pedigree Below

Sire +

Dam

links

open

in new

window

Di has moved to the Thornton Family ranch of Montgomery.

Thank you for your support and confidence in our horses.

SOLD to the Thornton Family of Texas