We are listed as the original owners and breeders of
Willow
(born 1996). Her dam,
Jagged Lady
was used as Darby's 4-H mare, Don's stock horse, a broodmare, and company's coming, "saddle up Jag for them"! Willow's sire, Painted By Red, was nicely started on ranch work and was standing at stud here, when sold on an offer we could not resist! 

We also raised and rode two brothers to this mare. Her full brother was high-selling horse at the 2002 South Country Production Sale.  Willow stands 15.2 1/2 HH. and is a dark bay.  She had a big, kind-eye and between her and Reo, our Paint Stallion, they were producing those "do-it-all" kind of horses.  She has two producing daughters here; 
SSAP Robins Lexi Lady
and
SSAP Notre Dame Flo
.
   Foal colors: 5 bays, 1 overo, 2 sorrels, 1 chestnut

Extended Pedigree Notes:

The Sire: Number One Red


(ROM Open,Top Ten/Canadian Western Riding/West Pleasure/Riding Championships, and Reserve Hunter under Saddle)

Otoe's Gent
(World Halter Qualifier) by

Otoe
(AQHA Champion, Superior Halter, AAA, ROM Race) by Sugar Bars

Ole Cutie Bar
(AQHA champion, Superior Halter, Superior Hinter, Open ROM, 225 Halter & Performance Points) by

The Ole Man(ROM Race)Three Bars out of Chicado V

Tam Tivio(Halter Pts) Poco Tivio by Poco Bueno

Apache Cat
(APHA Champion, ROM Reining/Halter/Hunter)

Bear Cat(National/APHA Champion/Sire of 7 APHA Champions) by Streaks Fleck(AQHA Champion, ROM Arena)

Shawnee Maid (Produced 3 APHA Champions) by Apache Norfleet (APHA Champion)
The Dam:  Jagged Lady by Mr Roan Boy by Ank Hank (SI 55)

                     out of Lady Geno - dam of McArthurs Geno, standing at Diamond K Ranch Quarter Horses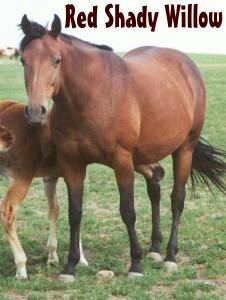 Beduinos Jazz - "BJ" - Willow's brother, sold as a 5 yr old to a neighbor.

"Jag" - Jagged Lady  - 1982 QH Roan Mare,  Mr Roan Boy  x  Lady Geno,

Willow's Dam,  was one mare we should have hung onto.  Anybody could ride her and she was multi-talented ~ from the 4-H show ring to handling down-right snotty cattle. She was sold in foal to our stallion,  Painted By Red. "Willow" was the resulting foal.

"Moon", Jagged Moon, full brother to Willow was sold as a 3 yr. old.  Barry Lerner consigned him to our 2002 Production sale where he was high selling horse (at 8 yrs of age) of the sale.

Red Shady Willow m   1996  Brown (Bay) Mare,  APHA # 339,423  DECEASED

___________  Willow's History and Horse Family ____________

"Lightning", Partees Lightning, 1997 Bay Overo,  half brother to Willow and sired by Mr Parteebuilt.

Lightning is currently working stock and being rode by the Kevin and Rhonda Weiss family of Maple Creek.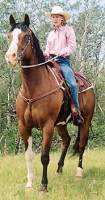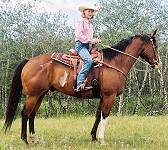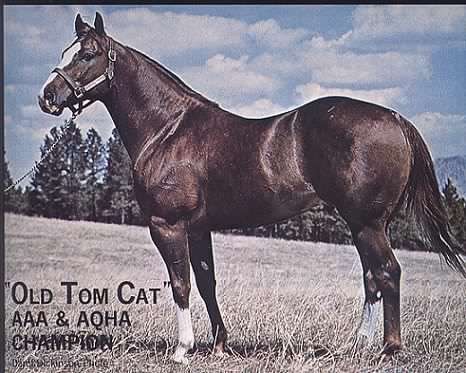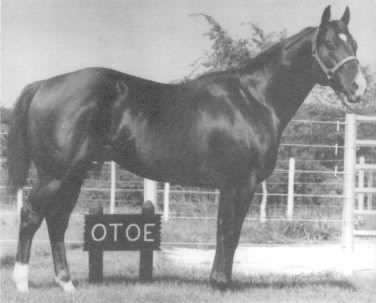 Red Shady Willow
Painted By Red
Number One Red
Otoes Gent
Otoe
Meeks Lady Hill
Ole Cutie Bar
The Ole Man
Tam Tivio
Jennifer Hancock
Apache Cat
Bear Cat
Shawnee Maid
Pearl Hancock
Tic Toc Hancock
Jewel Stagehand
Jagged Lady
Mr Roan Boy
Ank Hank
Tonto Bars Gill
Ank Hancock
Scappooses Girl
Wachters Arapahoe
Ann Shady Lady
Lady Geno
Vaguero String
Rukin String
Swift Roulette
Geno Lo
Geno Red
Miss Lo Ho
Additional Pedigree Information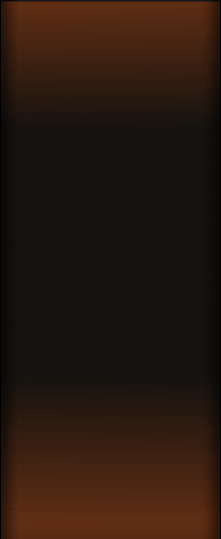 Delorme Ranch   s   South Shadow Angus, Paint & Quarter Horses

Registered APHA  &  AQHA Ranch and Performance Horses

Registered  APHA s  Registered AQHA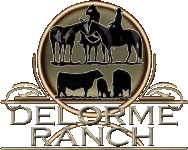 Don  and  Connie  Delorme &  Families      S      Box 28, Robsart, Saskatchewan   S0N 2G0  ~  Canada    S      Phone: ( 306 )  299 - 4494      S    
Email
APHA, AQHA, South Shadow Angus + Paints, Delorme Livestock, SSAP Paint & Quarter Horses, southshadow.com, DelormeLivestock.com, PaintHorses.ca, DelormeAngus.ca, southshadowangus.ca


Visitors and Inquiries  Always Welcome

Give us a call and stop by for a tour and visit.

Please do not hesitate to  CONTACT  US if you have further questions concerning our horse program.