Paint horses and Paint foals for sale

" SSAP Robins Dynasty "

May 09,  2005  ~   Sorrel  Overo Filly  ~  APHA #  832,406

Don and Connie Delorme

Box 28, Robsart, Saskatchewan  -  S0N 2G0

Phone:  1-306-299-4494






Ship Leave



Terrific Shipleave





Terrific Dee

Diamond Shipleave





Carter Decker



Deckers Dee





Cadee Hi





King Leo Bar



Two Kilobar





Fashion Page

Kilobar Lou





Poki 3 Nannette



Miss Lano Lou





Janet Starling





Painted Robin Jr. (APHA)



Mr Robin Boy (APHA)





Miss McGinley (APHA)

Robins Parteebuilt (APHA)





Buz Burnett



Si Bar Si (AQHA)





Dandy Toppsie





Mistic Bar



Mistic Pie San





Sandi Pie San

Lady Shi Di (AQHA)





Skip Shi



Lady Skip Shi





Balmy Joe Bar
If you want pretty and you want color and you refuse to sacrifice quality and disposition here is your prospect.

She'll mature at  15.1 HH or more and make a strong competitor in both western and english events .... and has the goods for halter.   "Dynasty" is the youngest of nine consecutive fillies from this mare.  The oldest, has been promoted to broodmare here at home, and six others are spread through Saskatchewan, Alberta and down to Texas. 

The extended pedigree on this little filly offers many clues as to her quality and potential.  She'll make a dandy broodmare someday .... just look at what
her full sister is producing
.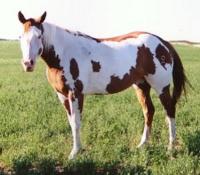 This is the 1997 full sister - rode as a working ranch horse, now

Extended Pedigrees are available on Sire and Dam pages

Click on Sire +  Dam names which open in new window

::  SOLD ::

Thanks Brenda for giving her a wonderful new home in Manitoba.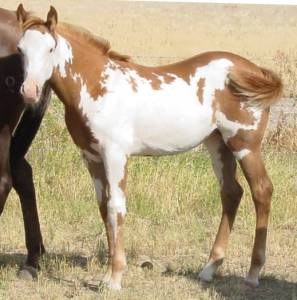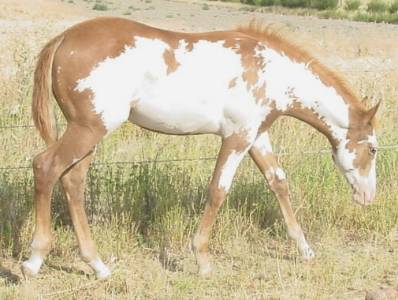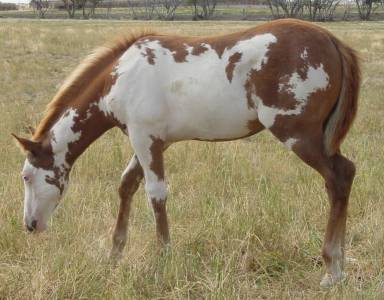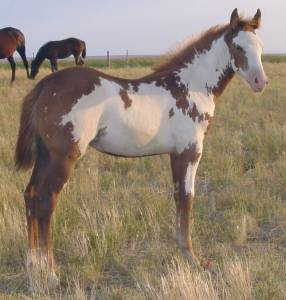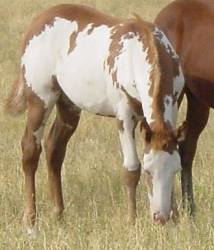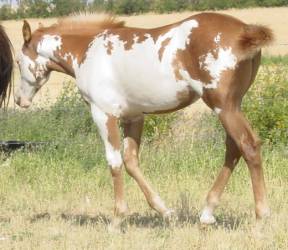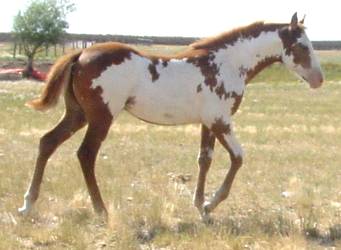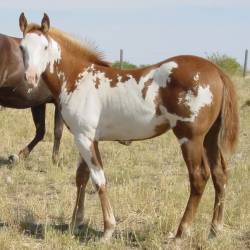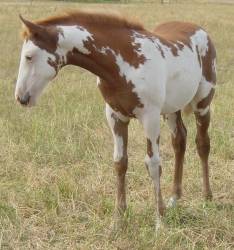 Click names - pages open in new window - with more horse pictures


Well BJ...her name just is so her. Is GROWING leaps and bounds. Going to be a powerhouse I think. Man can she spin to. Been doing all the Parelli on her and she is smart.  And what a funny personallity as in haha.. I had a tarp down walked up to it, she looked at it, she jumped on it put her head down and picked it up with her teeth.

Trailer loading is awsome. I tried ...the first time..just by walking in and she just follows me in, no hesitation. Then my friend whom I am weaning a foal for (arab/hanoverian cross) was playing with me and wanted to know how to trailer load without me going in trailer. So I took BJ and just pointed inside trailer taped on her back ,,but I didn't really think she would go in as we have never done this before, and bam! she jumped in all by herself and walked to the front of the trailer.

She is going to be soo easy to train. She ties well now. Still is a bit grouchy when feeding her, but we are working on that.  Had her feet down and a little resistance at first but fine now.

Took my hugh ball out and rolled it in front of her, she looked at it, jumped in the air and put her two front feet on top of it.  So you can imagine how much trouble she is going to get herself into, sticking her nose into anything. She even tries to jump in our oats room with the oat roller running, now thats noisy.

Guess what I am saying .. she going to be a good horse and we love her.

Brenda & Ed and  "BJ"   (Nov 13th, 2005)