--------------------------------------------------------------------------------------------------------

Extended Pedigree available on Sire &  Dam Pages  

Support Photos / Sale Testimonials  for siblings available through the Dam's page 

-------------------------------------------------------------------------------------------------------

                                  Mr Robin Boy 

                  Robins Parteebuilt 

                                  Si Bar Si

                                  Mistic Pie San

                  Lady Shi Di 

                                  Lady Skip Shi

                                  J Bear


                  Chocolate Thunder

                                  Baileys Playgirl

                                  Mr MBJ Shadow

                   JM Impressive Socks

                                  Batchs Fancy Socks​

International sales to the United States, France & Switzerland have previously been made: 
Contact us
 for export details
Full brother

click for larger view

Don  and  Connie  Delorme &  Families      |      Box 28, Robsart, Saskatchewan   S0N 2G0  ~  Canada    |      Phone: ( 306 )  299 - 4494      |     
Email
  APHA, AQHA, South Shadow Angus + Paints, Delorme Livestock, SSAP Paint & Quarter Horses, southshadow.com, DelormeLivestock.com, PaintHorses.ca, DelormeAngus.ca, southshadowangus.ca

Visitors and Inquiries  Always Welcome

Give us a call and stop by for a tour and visit.

Please do not hesitate to  
CONTACT  US
  if you have further questions concerning our horse program.
PEDIGREE information

BELOW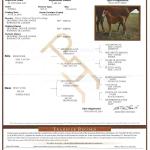 Delorme Ranch   ~   South Shadow Angus, Paint & Quarter Horses

Registered APHA  &  AQHA Ranch and Performance Horses

Registered  APHA  ~  Registered AQHA   

   " Tank " is currently being started by Stacey Mumby and is booked with him  for three months.  He will be available again for your consideration at a minimum of 2 months training (late March). 

Stay tuned OR INQUIRE about the prospect's progress while with Stacey.

" SS Thunder Cat  "

2018 Sorrel Gelding

APHA 1,088,124

Sire: Smooth Sir

Dam: Fancy Q Tee   

FOR SALE

14.2 HH (Nov. 2020)

                                  High Brow Hickory

                  High Brow Cat

                                  Smart Little Kitty 

          Smooth As A Cat

                                  Wheeling Peppy

                   Shes Pretty Smooth

                                  Smooth Hickory

                                  Smart Little Lena

                   Smart Lil Ricochet

                                  Moria Sugar

         Ricochet Redonda

                                  Colonel Flip

                   Flips Lil Angel

                                  Jae Bar Gali