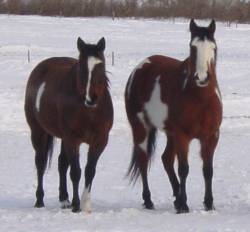 Ruckers Cocoa Charm m   1999 Bay Overo Mare,  APHA # 496,528   DECEASED


Charm w
as used for gathering and sorting cattle.  Her bloodlines shone in the ranch work.   She was moved into the broodmare band at five years of age.  She stood an easy 15.3  HH. - had a sweetheart of a disposition and tended to be on the easy-keeping side!!! 

Her 2005 overo filly, sold to France and her second, a sharp looking 2008 Bay stud colt stands at stud in Alberta, other sons are in Arizona and Swift Current.   She has foaled 3 overos and 2 solid bay in her Mr Parteebuilt matings.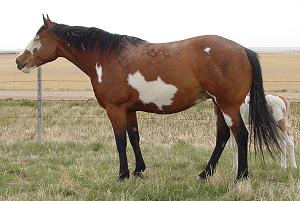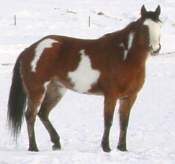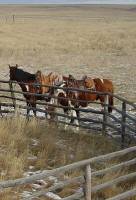 Left to Right:

(left) Charm,  (center) Charm under saddle behind the Tobiano gelding , Major,  at weaning time,

(right) Charm and her side-kick Dove.

Extended Pedigree Notes for Ruckers Cocoa Charm:

Her Sire: Little Rucker, a sorrel overo stood 15-1 hh. He really watched a cow and had been used for every aspect of ranch work. His foals have gone to Germany, as for South as Atlanta, Georgia, and into the three Western provinces. He had a great disposition and a running walk ... a pleasure to be around.

Little Rucker :: by  Daves Top Smoke; out of Sue's Pretty One

Daves Top Smoke by Top Smoke out of  Winters McCue  NCHA COA,  NCHA earnings - $2,297,  1981 & 1984 APHA Nat'l Champ. Cutting Horse ;  Superior &  ROM Cutting,     

                   ~  Top Smoke by  Mr Gunsmoke; NCHA COA,  NCHA earnings $8476,  AQHA Superior Cutting,  AQHA Show ROM - one of the top maternal grandsires. Mr. Gun Smoke's bloodlines are one of the most recognized in the Reining and Cutting Industry.Offspring have won the N.R.H.A. Futurity, the N.C.H.A. Futurity and the N.R.C.H.A. Futurity and numerous other performance titles.       

                    ~  Winters McCue  by  Mr. Winters;  ROM W. Pleasure/Trail/Roping,  APHA Champ

Sue's Pretty One by   Rondo Leo;  AQHA Champion (by Leo's Question out of War Bird)

                           out of Mainline Sue (by Mainline Buck out of Bray's Leo Susie)

Her Dam: Choco Chix is Lou Parsonages good ol ranch mare :: by San Atone out of Miss Jacky Baby

San Atone: by King Billy Buck out of Leo Jag Queen

Miss Jacky Baby : by Mr Star Jack by Two Eyed Jack:  H-217, P-65.5, AQHA Champion, Superior Halter, ROM; Quarter Horse Hall of Fame 104 Class Wins/12 Wking Class Wins 134 Get of Sire Wins 70 Gr. Champs/12 Res. Champs. 217 HLT & 64.5 Perf Pts in 5 ev. Sire of: 559 Performers & 1 SUPERHORSE

                 ~  by   TWO D TWO:  H-42/P-30.5(Rein-18, WP-7, WR-5.5), Show/Perf ROM, NCHA $ Earner, Perf & Hlt Pt Sire. AQHA Champion, '63 ROM Performance, '61 Halter Point Earner Performance Point Earner Total Points Earned: 72.5; Halter Points

               ~   out of TRIANGLE TOOKIE  (Genetically a gold champagne dilute, not palomino as registered, but at the time the different dilution genes were not understood).  A leading dam of AQHA champions.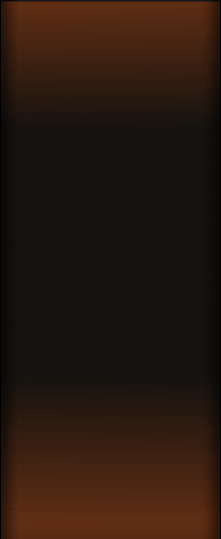 Ruckers Cocoa Charm
Little Rucker
Daves Top Smoke
Top Smoke
Mr Gun Smoke
Ima Cherry Too
Winter's McCue
Mr Winters
Mondays Music
Sue's Pretty One
Rondo Leo
Leos Question
War Bird
Mainline Sue
Mainline Buck
Brays Leo Susie
Choco Chix
San Antone
King Billy Buck
Poco Peder Buck
Jorda King
Leo Jag Queen
Baldy Leo San
Mint Babe
Miss Jacky Baby
Mr Star Jack
Two Eyed Jack
Pats Miss
Baby Doll Page
Crown Page
Bear Debbie
Additional Pedigree Information

Delorme Ranch   s   South Shadow Angus, Paint & Quarter Horses

Registered APHA  &  AQHA Ranch and Performance Horses

Registered  APHA s  Registered AQHA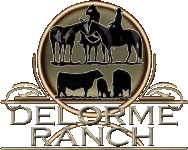 Don  and  Connie  Delorme &  Families      S      Box 28, Robsart, Saskatchewan   S0N 2G0  ~  Canada    S      Phone: ( 306 )  299 - 4494      S    
Email
APHA, AQHA, South Shadow Angus + Paints, Delorme Livestock, SSAP Paint & Quarter Horses, southshadow.com, DelormeLivestock.com, PaintHorses.ca, DelormeAngus.ca, southshadowangus.ca


Visitors and Inquiries  Always Welcome

Give us a call and stop by for a tour and visit.

Please do not hesitate to  CONTACT  US if you have further questions concerning our horse program.