"  SS FLY FANCY N FREE "  

Bay  Filly

June 8, 2016  ~  APHA # 1,068,516

SOLD - Thank You to the Mann Family of Rocking M Farms, Roblin, MB

*  15.1 HH 

*  90 days with Stacey Mumby

*  Ranch prospect or you choose her discipline

*  Under saddle and working with rope, tire drag, flag.

*  Stands quietly for tacking, mounting. Loads, has been trailered

*  Quiet disposition

*  Pastured in barbwire fencing [hills, holes and up to 15 pasture mates] as well as a 2 wire cable as a weanling/yearling through her first winter.

*  UTD: Flu/West Nile/Tetanus Innovator vaccinations

International sales to the United States, France & Switzerland have previously been made: 
Contact us
 for export details
2013 Maternal Sister

click for larger view

Don  and  Connie  Delorme &  Families      |      Box 28, Robsart, Saskatchewan   S0N 2G0  ~  Canada    |      Phone: ( 306 )  299 - 4494      |     
Email
  APHA, AQHA, South Shadow Angus + Paints, Delorme Livestock, SSAP Paint & Quarter Horses, southshadow.com, DelormeLivestock.com, PaintHorses.ca, DelormeAngus.ca, southshadowangus.ca

Visitors and Inquiries  Always Welcome

Give us a call and stop by for a tour and visit.

Please do not hesitate to  
CONTACT  US
  if you have further questions concerning our horse program.
PEDIGREE information

BELOW






Really Rugged 



Rugged Lark





Alisha Lark
Five O Clock Lark






Jays Sugar Bars



Jays Sugar Jewel





Smokey Sapphire





Fintry Tom Cat



Fintry Little Tom 





Leozella
MCR Serendipity






Page Lee 



Lynrock Paty Page





Star Kilebar 
Mr Robin Boy (APHA)




Robins Parteebuilt (APHA)





Si Bar Si 
(AQHA)





Mistic Pie San



Lady Shi Di (
AQHA
)





Lady Skip Shi





CBS Joe



Montana Bonanza   (
APHA
)





Major Catastrophe





Waspy Kleo Bar 
(AQHA)



Saucy Miss Waspy   (
APHA
)





Saucy Sheila
--------------------------------------------------------------------------------------------------------

Extended Pedigree available on Sire &  Dam Pages  

Support Photos / Sale Testimonials  for siblings available through the Dam's page 

-------------------------------------------------------------------------------------------------------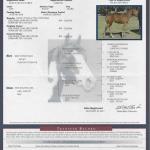 Stay tuned  for current pictures

Delorme Ranch   ~   South Shadow Angus, Paint & Quarter Horses

Registered APHA  &  AQHA Ranch and Performance Horses

Registered  APHA  ~  Registered AQHA