--------------------------------------------------------------------------------------------------------

Extended Pedigree available on Sire &  Dam Pages  

Support Photos / Sale Testimonials  for siblings available through the Dam's page 

-------------------------------------------------------------------------------------------------------

                                        Mr Robin Boy

                    Robins Parteebuilt  (APHA) 

                                        Si Bar Si

                                        Mistic Pie San

                    Lady Shi Di  (AQHA)   

                                        Lady Skip Shi

                                        Terrific Shipleave

                     Diamond Shipleave

                                         Deckers Dee

                                         Two Kilobar

                      Kilobar Lou

                                         Miss Lana Lou

International sales to the United States, France & Switzerland have previously been made: 
Contact us
 for export details
Three maternal siblings 

[of 11]

click for larger view

Don  and  Connie  Delorme &  Families      |      Box 28, Robsart, Saskatchewan   S0N 2G0  ~  Canada    |      Phone: ( 306 )  299 - 4494      |     
Email
  APHA, AQHA, South Shadow Angus + Paints, Delorme Livestock, SSAP Paint & Quarter Horses, southshadow.com, DelormeLivestock.com, PaintHorses.ca, DelormeAngus.ca, southshadowangus.ca

Visitors and Inquiries  Always Welcome

Give us a call and stop by for a tour and visit.

Please do not hesitate to  
CONTACT  US
  if you have further questions concerning our horse program.
PEDIGREE information

BELOW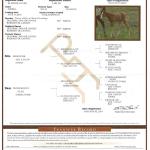 Delorme Ranch   ~   South Shadow Angus, Paint & Quarter Horses

Registered APHA  &  AQHA Ranch and Performance Horses

Registered  APHA  ~  Registered AQHA   

   " Wilbur "  completed four months with Stacey Mumby. This flashy gelding is ready for his new owner; on the ranch, in the arena or trailing out for pleasure.  

SS Partee On Sir

2018 Sorrel Gelding

APHA 1,088,121

Sire: Smooth Sir

Dam: Partee Bonnet 

SOLD: Thanks Sam ~ we are pleased that this flashy fella is joining your ranch string.  

15.1 HH (Nov. 2021) 

                                  High Brow Hickory

                  High Brow Cat

                                  Smart Little Kitty 

          Smooth As A Cat

                                  Wheeling Peppy

                   Shes Pretty Smooth

                                  Smooth Hickory

                                  Smart Little Lena

                   Smart Lil Ricochet

                                  Moria Sugar

         Ricochet Redonda

                                  Colonel Flip

                   Flips Lil Angel

                                  Jae Bar Gali